The Women's March and Hurricane Harvey Like You've Never Seen Them Before
By Mike Skogmo on January 15, 2018
Today Jukin Media and Verizon's go90 released a binge-worthy new documentary series entitled "This Is Happening", exclusively on go90. With a completely new approach to the documentary genre that features user-generated video as the primary source of footage, "This Is Happening" examines the personal, human stories that were borne from the major cultural events of the past year.
Each episode features three or more narratives from people who experienced the event firsthand. To further expand on the story narratives, each episode utilizes on average 106 different pieces of video content from an average of 31 separate amature video creators. This cacophony of perspectives frames the event in an extraordinary raw and relatable way.
From the tragic (Hurricane Harvey) to the inspiring (The Women's March) to the absurd (Fyre Festival), each episode focuses on one major event that defined the cultural zeitgeist, and examines three to four stories-within-a-story, where real people who were on the ground for these events share their personal experiences along with their own first-person video footage captured during the events.
· The Charlottesville, VA Protests
· The August 2017 Solar Eclipse
· Cubs World Series Victory
"User-generated content will revolutionize the way contemporary events are documented, and this series is one of the first examples of that," said Jonathan Skogmo, Founder and CEO of Jukin Media. "This Is Happening" is executive produced by Jukin Media's Jonathan Skogmo and Josh Entman, and Emmy-winning producer/ director Lauren Thompson.
Women's March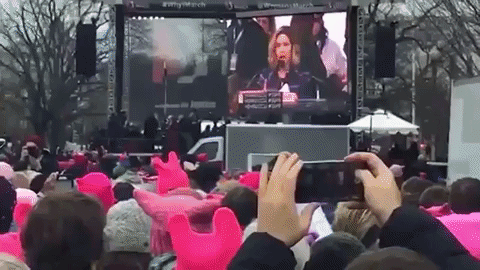 The day following Donald Trump's inauguration as President of the United States, more than 5 million people gathered in 673 cities across 82 countries in support of human rights, reproductive rights, women's rights, equality and more. The Women's March goes down in history as the world's largest single-day protest. Politics aside, the day was an amazing display of human cooperation and determination. This Is Happening follows three different perspectives from individuals with different religious beliefs, political views and life experiences who all participated in this historical protest. The episode "Women Rising" lets the footage and unique experiences speak for itself making it an unbiased recap of this historical day.
DAPL
In November of 2016 over 200 native tribes banded together for the first time in American history to rally against the construction of the Dakota Access Pipeline. Over 25,000 people gathered together in solidarity to peacefully protest, unknowingly starting the longest running protest in recorded history. The episode "DAPL" focuses on 3 narratives by individuals who experienced the protest first hand. Two of these points of view come from people who are there to protect the place they live, and one who seeks to document the events from an unbiased perspective. With all of the controversy surrounding this protest, This Is Happening allows the viewer to see how things unfurled from footage taken on the ground in its truest form-- making it an eye-opening episode to say the least.
CUBS
The premiere episode "Cubs" focuses on the historic 2016 World Series, diving into four deeply personal stories from four very different people, united only in their love of the Chicago Cubs. These include a 23 year-old woman whose grandfather, a die-hard Cub fan, passed away before the World Series, and a Chicago-based songwriter whose Cubs dedication song made her a local celebrity.
Fyre Festival
Fyre Festival was (falsely) advertised to be an incredibly luxurious musical festival on a private island in the Bahamas complete with famous social influences, celebrity chefs and big name musicians. Unfortunately, the Fyre Festival became the perfect punch line to an 'expectation vs. reality" joke, resulting in cancellation of the event, stranded attendees fighting over shelter and food, and the creators facing multiple lawsuits and jail time. The episode "Fyre" follows three Fyre Festival witnesses with big dreams about the experience ahead and a different goal or reason why they were going. Some goals were achieved and some were not, but in any case, this episode not only exposes the festival from first hand accounts, but shows a highly individualized effect this colossal flop had on both guests and workers.
Eclipse
People from all over the U.S. as well as many other countries gathered to see the total solar eclipse on August 21st, 2017. This event is unique from other solar eclipses that have happened in the past due to the technological advances in documentation from smartphones and sharing on social media, making it the most documented event in human history. The episode "Eclipse Chasers" gives the audience a taste of what it was like for four individuals who experienced the solar eclipse in unique ways. Two people attended the Oregon Eclipse festival for different healing purposes, one aimed to capture the best photograph of the eclipse, and one prepared for doomsday. For those who were lucky enough to see the solar eclipse this year, you know what an awe inspiring, totally cool and for some - a spiritual experience it was.