My Video Went Viral: Peanut Butter Baby
By Danielle Erves on August 28, 2017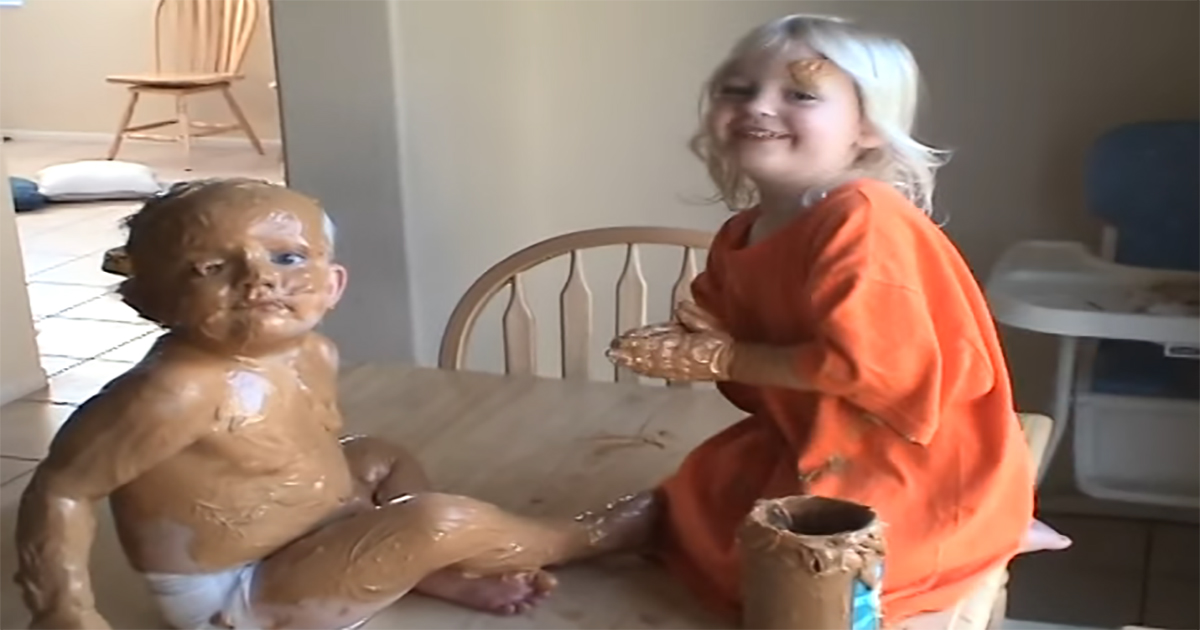 One October day 2004, Gina Brown and her children were going through their normal morning routine. Her older kids had prepared lunches and gone off to school, while Gina and the littlest Browns continued to get ready.
While Gina began to get ready for her day. she could hear Ethan and Emil, her youngest children, laughing and playing in the next room. After Gina finished her makeup, she walked into the kitchen and was surprised to find a truly unbelievable scene: Emily painting her little brother Ethan in a nice shade of peanut butter.
"When i came into the kitchen I couldn't believe what a mess they made. I just had to laugh," recalled Gina.
It just so happened the eldest Brown children had left a jar of peanut butter on the counter and when Gina quickly slipped into the bathroom to do her makeup, the two youngest Browns decided to have a some fun.
"My immediate reaction was no one is going to believe this! I knew i had to take pictures and show my family."
Gina used an 8mm video camera and a still camera to record and take a few pictures of Ethan and Emily because this happened before smart phones. Gina wanted to share them with her family and friends so she downloaded my pictures and emailed them out.
Years later Gina uploaded the video to Facebook to show more of her friends and family and commented "This still makes me laugh." Two of Gina's friends saw the video and asked to share it and the frenzy began. The video of Gina's peanut butter babies was being shared all over Facebook. To date, the video has been shared over 700 thousand times.
For Gina and her family, this video brings the Brown family excitement in a different way. Their daughter Emily is dyslexic and is homeschooled. She relies on tutors and a custom curriculum to retrain her brain on her to learn. Unfortunately for the Browns, homeschooling and tutoring is not cheap. Gina said the issue became a matter a prayer. Eventually, she signed with Jukin and said "through licensing and through YouTube monetization" the Browns can afford to give Emily the education she needs.
"We are shocked with the amount of money it has generated."
Gina started getting messages from Facebook users all over the world, from Australia to Japan. One message was from a woman who recently lost her adult daughter and had a similar peanut butter experience. She said Gina's video brought her peace and made her laugh. She says her video was in a Cheerios commercial and she had several friends and family reach out to say they saw the "Peanut Butter Baby" video on TV. If you were wondering how Gina got all the peanut butter off Ethan. She said all it took was a bathtub, water, and a lot of baby soap.
"It's part of our family history now."
Ethan and Emily about both doing great. Emily is 15 and just got her first job. She is a theatre buff and loves to sing. Ethan is 14 and is a video game whiz. Both Emily and Ethan love reading and are going through the Harry Potter and Percy Jackson series right now. The two decided to include their newest little brother and take a family trip to Universal Studios with their earnings.
Want more? Check in with the Brown Family on their blog, Happiest Accidents.
Puddle Jump Gone Wrong